The Free 5-Day Door is a Bore™️ Challenge: Your First Steps to Freedom! Starts July 10th
Have you ever felt that pang of guilt as you the worry in your dog's eyes when you're about to step out the door? Do you ever wish you could make your pup understand that your leaving is not something to dread, but just a boring part of the day? You're not alone. But the good news is, you can teach your dog that you leaving is no big deal.
Introducing the Free 5-Day Door is a Bore™️ Challenge. This is not just another piece of advice you read on the internet and forget about. It's structured training, designed to motivate you and guide you every step of the way, so you don't feel overwhelmed.
We'll be focusing on the biggest leaving stressor of all: the door. Getting your dog comfortable with you stepping out the door is foundational. Door is a Bore™️ is the proprietary training method I developed to do exactly that.
Regardless whether you've been working on separation anxiety training for some time, or you are just starting out, the challenge will benefit you, and your dog. The best part? It's absolutely free!

Day 1 LIVE session on Facebook: Intro to Door is a Bore™️
I'll teach you why your departure is the biggest trigger for your dog, and how to use gradual exposure to help your dog. Your first action step will be to get crystal clear about your dog's current threshold.
You'll put the theory into practice with your first Door is a Bore™️ training session.
Day 3 LIVE session on Facebook: Deep Dive Q&A


Prepare your list of questions and doubts, and we'll answer them all in the live session.
Keep up the momentum with another day of guided Door is a Bore™️  training.
Day 5 LIVE session on Facebook: Deep Dive Q&A
Ask more questions and participate in our live session where we'll discuss how to take your training forward. And I'll help you work out what your next actions should be.
You'll devise your own gameplan, to confidently continue your dog's training.
It's easy to feel lost and overwhelmed when dealing with your dog's separation anxiety, but you don't have to face it alone. By following exactly what I teach you in this 5-Day First Steps to Freedom Challenge, you'll start to see that separation anxiety recovery is doable. And you'll feel the love and support of everyone else taking part.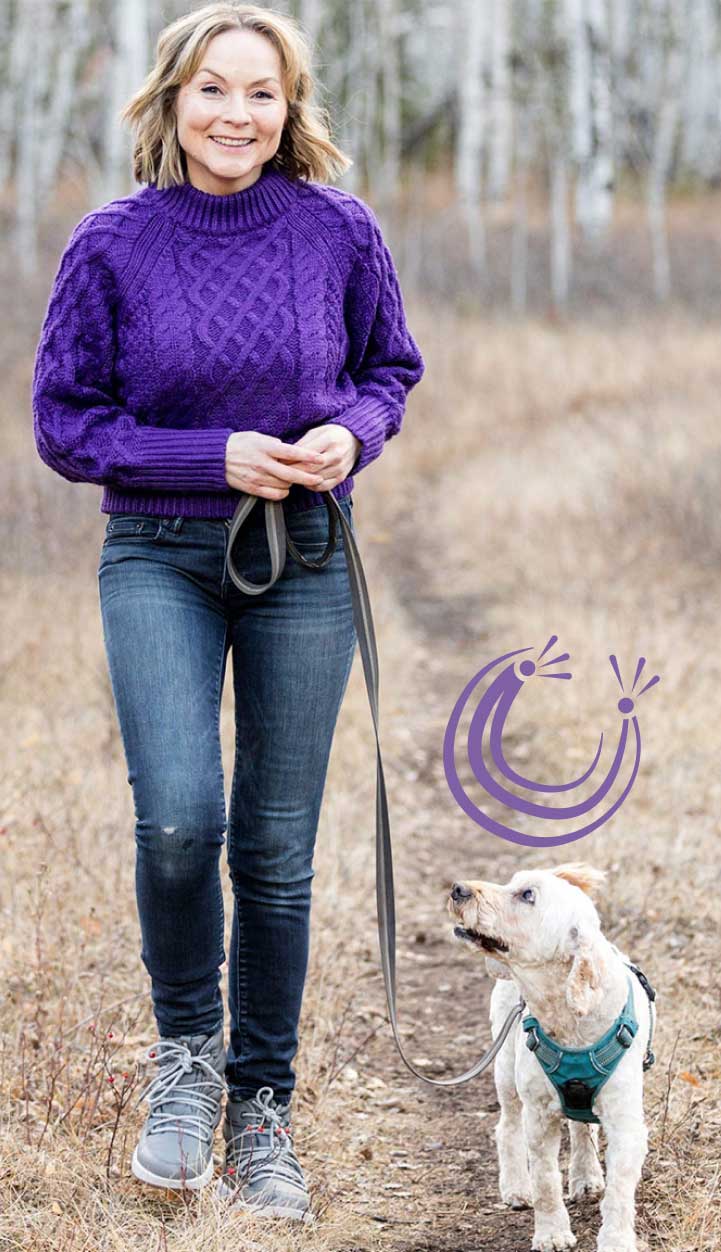 ...author of the bestselling Be Right Back! series of books, host of the top-rated Be Right Back! podcast, creator of the unique separation anxiety training app, and your coach for this 5-Day First Steps to Freedom Live Challenge.
I'm passionate that having a dog with separation anxiety is hard enough without the training having to be overwhelming too.
That's why I run these free challenges: to show you that it doesn't have to seem as hard as it does right now.
Tens of thousands of people – people just like you – have taken my free challenges. And have discovered that getting a dog over separation anxiety is achievable – provided you have a plan, and a simple step-by-step process to follow.
There are no guarantees when it comes to separation anxiety recovery. And I'm definitely not going to suggest that this 5-your dog will be transformed in just 5 days (you wouldn't expect that anyway, right?)
But I can guarantee that you'll see the recovery process very differently once you've done this challenge. Less overwhelm. More purpose.
If you're tired of feeling helpless and ready to take action, sign up for the 5-Day First Steps to Freedom: Door is a Bore™️ Challenge.
 If you're ready to turn a stressful situation into a boring non-event for your dog, click the button below to register. Your first step towards freedom is just a click away!
Remember, doing nothing means staying stuck in the same stressful cycle. Let me help you see that there is a better way.
Here's what you might be wondering...
You don't have to attend the sessions live to make this Challenge work for you. You'll get a link to the recording soon after. If you do want to attend, the live sessions are on:
Monday 10th @ 11am LA / 2pm NY / 7pm UK
Wednesday 12th @ 11am LA / 2pm NY / 7pm UK
Friday 14th @ 11am LA / 2pm NY / 7pm UK
I'll email you a link each day.